IFRDMD berpartisipasi dalam Seminar Tanah Suboptimal
Sriwijaya University organized the Seminar of Suboptimal Lands in Palembang, on 5 September 2019, with the theme "Smart Farming with Environmental Insights for Farmer's Welfare". This activity was intended as a medium of scientific communication for researchers, lecturers, and agricultural/fishery actors on disseminating their Scientific Papers that will be published in the Proceedings and also the Journal of Suboptimal Lands.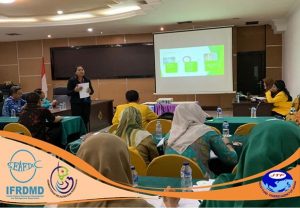 IFRDMD was represented by Ms. Ni Komang Suryati. She attended the Seminar and presented the paper entitled "The Characteristics of Fish Resources in Situ Gede, Tasikmalaya, West Java," with the co-authors Ms. Sevi Sawestri and Dr. Dina Muthmainnah. From the study, it showed that the information regarding the characteristics of fish resources in the waters of Situ Gede is still limited. She recommended that fish resources in Situ Gede can be increased through restocking activities.