Assessment of EAFM for Provincial Level in Palangkaraya, Central Kalimantan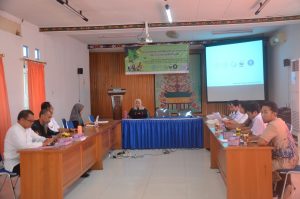 The consultation and needs assessment and verification ecosystem approach to fisheries management for Provincial level was held in Palangkaraya, Central Kalimantan, on 26 June 2019. The facilitators of this activity were the officer of SEAFDEC/IFRDMD, an officer of Research Institute for Inland Fisheries and Extension (RIIFE), and researcher of Fisheries Research Center, namely Dr. Dina Muthmainnah, Mr. Albertus Victor Jaka and Ms. Aisyah. The meeting was organized in the ballroom of Provincial Fishery Services Office and attended by officers of Kapuas District Fishery Services, Barito Selatan Fishery Services, a scientist from Palangkaraya University, as well as high level and officers of Provincial Fishery Services Office.
IFRDMD officer presented the results of the assessment in Kapuas and Barito Selatan District. It showed that EAFM on the inland fishery in both districts was conducted well enough. While Fisheries Research Center researcher guided the participants on fulfilling the questionnaire to assess the inland fishery by using the ecosystem approach. The facilitator also gathered additional information from participants, and the discussion ran smoothly.
Finally, after analyzing the answers from participants, we know that Central Kalimantan Province is good at running the inland fisheries management by using the ecosystem approach. (#dina_mth)