International Class Lectures the Inland Fisheries Research towards Sustainable Utilization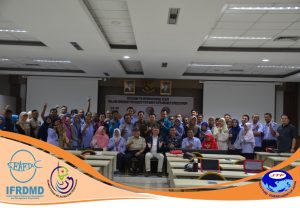 Research Institute for Inland Fisheries and Extension (RIIFE) Ministry of Marine Affairs and Fisheries (MMAF) held the International Class with the theme "Inland Fisheries Research towards Sustainable Utilization" on 9 September 2019 in Palembang. The researcher of IFRDMD, Dr. Dina Muthmainnah, was invited as the Speaker. She delivered the presentation entitled: "The implementation of inland fisheries management in Southeast Asia to keep the sustainability fisheries," based on the study results of 5-year research work funded by Japan Trust Funds VI.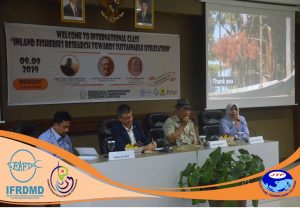 This Meeting was opened by Head of RIIFE c.q. Chief of SEAFDEC/IFRDMD, Dr. Arif Wibowo. He welcomed participants and wished the International Class come up with recommendations and a better understanding of sustainable utilization on inland fisheries in the region. Besides, he also hoped the cooperation might be pursued in the future.
The International class was attended by the academicians, researchers, and officers that came from the national universities, research institutes, and local government. In addition, two invited speakers also delivered their presentations; they were: were Simon James Funge-Smith, Ph.D. from Food and Agriculture Organization of the United Nations (FAO), Prof. Dr. Ir. Fahrurrozie Syarkowi from Sriwijaya University Palembang. The participants involved in active discussion.