PROF. YOSHINORI KUMUZAWA LECTURES ON THE INLAND FISHERIES AND BIODIVERSITY IN SOUTHEAST ASIA
Prof. Yoshinori Kumuzawa, from Nagoya City University Japan, was as the resource person for In-house Training on Inland Fisheries and Biodiversity in Southeast Asia on 23 October 2019, in Palembang, Indonesia. The Training was organized by the Research Institute for Inland Fisheries and Extensions (RIIFE) and supported by the Southeast Asian Fisheries Development Center (SEAFDEC)/Inland Fishery Resources Development and Management Department (IFRDMD). This Training was under the project entitled "Promotion of responsible utilization of inland fisheries resources in Southeast Asia," budgeted by Japan Trust Fund VI.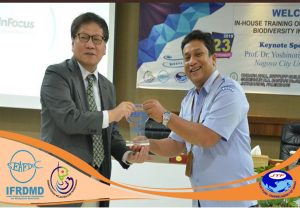 The participants of the Training came from SEAFDEC/IFRDMD and RIIFE. The IFRDMD Chief, Dr. Arif Wibowo, welcomed the participants and expressed his gratitude for their attendance on this Training. This Training is a way to raise the understanding of inland fisheries sustainable utilization and the opportunity to explore research collaboration with other organizations or institutions related to Inland Fisheries Research.
The trainer presented the "Evolution and Biodiversity of Southeast Asian Freshwater Fishes." He explained about biodiversity, which is consist of a diversity of species, ecosystems, genetic traits, and also interspecific and species-environment interactions. Diversity of genetic was important elements of biodiversity. In order to conserve the biodiversity, the basic scientific data of taxonomy, phylogeny, population genetics, and ecology are importantly needed. There are several approaches to the conservation of biodiversity, i.e., taxonomy, molecular phylogeny, population genetics, and ecology. The evolutionary background would explain the current biodiversity which has been created in a past earth environment. This information has relevance to the conservation strategy. During the discussion, it was recorded several comments and input on the presentation by participants.
Dr. Takuro Shibuno, the Deputy Chief of SEAFDEC / IFRDMD, expressed his appreciation to the trainer. He referred to the lecture reminded the participants for "keeping the biodiversity would be keeping human's health." Before closing the Training, Dr. Takuro also mentioned that this Training would be the future effort to develop inland fisheries. (
#MA
).