IFRDMD organizes the Workshop on Revising the Fisheries Co-management Regulation in Nam Xouang Reservoir, Lao PDR
SEAFDEC/IFRDMD organized the Workshop on Revising the Fisheries Co-management Regulation in Nam Xouang Reservoir, Vientiane Province, Lao PDR. This activity is a part of the research activities, entitled Promotion of responsible utilization of inland fisheries in Southeast Asia. To get the input from each district, IFRDMD held the small meeting, and the agenda started from 21 January 2019 in Naxaythong District, continued on 22 January 2019 in Phonhong District. The meeting was attended by staff of Department of Livestock and Fisheries (DLF) Lao PDR and the Head of Province Agriculture and Fishery Officer (PAFO). On this meeting, each of the Head of villages, the Head of fishery communities and the member proposed the revised some articles from their area. IFRDMD, represented by Dr. Dina Muthmainnah and Mr. Aroef Hukmanan Rais, shared their experiences and knowledge regarding the inland fishery management in Southeast Asia, especially in Indonesia. IFRDMD also visited the conservation zone in each district by using the boat to monitor the signboard and buoy installed by SEAFDEC/TD in 2018.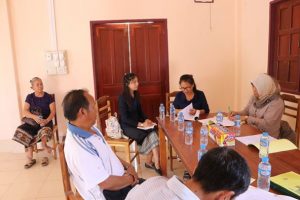 On 23 January 2019, the Workshop organized in National Fishery Development Center Building, Naxaythong District, attended by 50 persons from the two Fishery Community Managements. The workshop was led by Mrs. Bouphan Chanthasit, Head of Fisheries Unit, Vientiane Capital, Lao PDR, as the chairperson and Ms. Dongdavanh Sibounthong as the translator. The workshop came out with the draft of revised fishing regulation and it will be proposed to Major to get the approval and signature. In this occasion, researchers of SEAFDEC/IFRDMD presented the result of analyzing the fishing data after being collected for 6 months. The data collection will be continued to get the data in 1 year, and to get the pattern of fishing activity in Nam Xouang Reservoir.
On the last day, 24 January 2019, IFRDMD donated a personal computer to DAFO in Naxaythong District that it will be helpful in collecting the data regarding IFRDMD'S research activity. And the meeting continued in DLF Building Vientiane, to finalize the revised fishing regulation by the Fishery Division, DLF.