5-year Achievement of IFRDMD
Since the inauguration of SEAFDEC/IFRDMD on 2 September 2014, now, IFRDMD reaches 5- year working on inland fisheries study. On 8-10 October 2019 in Jakarta, Indonesia, IFRDMD held the Workshop on 5-year of IFRDMD's Achievement. The Workshop was attended by SEAFDEC member countries, Indonesia researchers and scientists, and top managers of the Ministry of Marine Affairs and Fisheries Republic of Indonesia.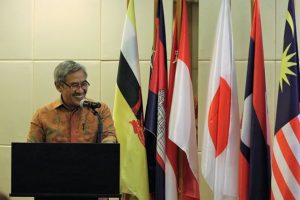 During 5-year, SEAFDEC/IFRDMD is tasked to manage and coordinate the project activities of SEAFDEC that aim to promote the sustainable development and management of the inland capture fisheries region. Its initial project on the "Promotion of Responsible Utilization of Inland Fisheries Resources in Southeast Asia" and "Enhancement of sustainability of catadromous eel resources in Southeast Asia" are considered as a way of establishing and strengthening regional networking for sustainable inland fisheries management and fish conservation of inland water resources.
The Workshop was opened by Secretary-General of SEAFDEC, Ms. Malinee Smithrithee, and Director of Research Center of Fisheries, MMAF, Mr. Waluyo Sejati Abutohir. Prof. Ir. Sjarief Widjaja, PhD., FRINA, Alternate Council Director of SEAFDEC for Indonesia, and Director of Agency for Marine and Fisheries Research and Human Resources, Ministry of Marine Affairs and Fisheries, Republic Indonesia delivered as critical message entitled "A message in strengthening SEAFDEC/IFRDMD to support the resolution of inland fisheries management problems". The 3rd-lifetime achievement award for a long time working towards inland fisheries research and inland fisheries management building was proudly presented to Dr. Chumnarn Pongsri, the former Secretary-General of SEAFDEC 2009-2015. Dr. Chumnarn delivered the key message that mentions the very fundamental principle of why we need to secure the sustainability of inland capture fisheries. IFRDMD's researchers presented the result of the studies in five years that were conducted in all member countries.
On this good opportunity, IFRDMD launched the first publication, i.e., book and comic. The entitle of the book is "The Feature of Inland Fisheries in Southeast Asia" and comic with title "Anguillid Eel: the Tough Fish." Also, IFRDMD created the photo booth that told the legend story of asian redtail catfish and anguillid eel in Indonesia.
On the second day, the agenda covered gathering information and discussion chaired by the Secretary-General of SEAFDEC. The participants synthesized the lessons learned, including problems and challenges of collecting data at the regional level for improving the fisheries information gathering on inland fisheries and anguillid eel in Southeast Asia. The discussion on the key factors for successful fisheries information gathering on inland fisheries and anguillid eel in Southeast Asia was guided by Dr. Luky Adrianto, Dr. Toni Ruchimat, Dr. Duto Nugroho and Prof. Dr. Ngurah N. Wiadnyana.
On the last day, the participants visited the Marine Heritage Gallery and Library of Ministry of Marine Affairs and Fisheries, and also the Freshwater Fish Museum of Beautiful Indonesia Miniature Park. (
#MAL
)