THE THIRD REGIONAL MEETING IN BANGKOK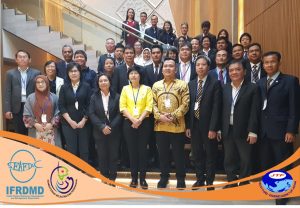 This meeting was held on 22nd – 23rd July 2019 in Bangkok, Thailand. It contains the result of the activities of the project entitled "Enhancing Sustainable Utilization and Management Scheme of Tropical Anguillid Eel Resources in Southeast Asia" which was implemented by SEAFDEC with the support of JAIF (Japan ASEAN Integration Fund). The project period is two years between August 2017 and July 2019. The purpose of this meeting was to present and evaluate the final results of the activities conducted in the project and to finalize the draft of the project report.
The final results were presented by persons in charge of the project, and each participant evaluated the achievements of the project : 1) Executive Summary and Introduction by Mr. Isao Koya (SEAFDEC SEC.); 2) Baseline Survey was presented by Dr. Yumi Okochi (JANUS); 3) Regular Survey was presented by Dr. Takuro Shibuno (IFRDMD); 4) Populatiuon Genetics of A. bicolor was presented by Ms. Melfa Marini (IFRDMD); 5) Refinement of Eel Nursery Techniques to Improve Survival Rates presented by Dr. Maria Lourdes Cuvin-Aralar, Dr. Maria Rowena Eguia, Dr. Frolan A. Aya (AQD); 6) Status of Tropical Anguillid Eels (Anguilla spp.) in International Trades was presented by Dr. Naohisa Kanda (JANUS); 7) Policy Guideline and Regulation/Management measures for Tropical Anguillid Eels was presented by Mr. Isao Koya (SEAFDEC SEC.); 8) Information Documents for the CITES Meeting of Animal Committee (Appendices4) was presented by the contributors in charge of their part.
The participants were persons in charge of the project in each country (Cambodia, Indonesia, Lao PDR, Malaysia, Myanmar, Philippines, Thailand, and Viet Nam), Fisheries Agency of Japan (Mr. Kazuya Fukuya), Mission of Japan to ASEAN (Mr. Noriyuki Takahashi), Assessment committee member (Dr. Duto Nugroho Suhardjo), eel experts (Dr. Hagi Yulia Sugeha, Dr. Maria Lourdes Cuvin Aralar), Consultant-JANUS, SEAFDEC Secretariat, AQD and IFRDMD.
The information document submitted to the CITES 30th Meeting of the Animal Committee will be update and submitted to the 31st Meeting of the Animals Committee in 2020. The final report will be submitted to the ASEAN Secretariat and will also be posted and published on the SEAFDEC website.