IFRDMD's Participation on the 2019 Seminar on Fisheries Research Results
In order to disseminate and increase the intensity and quality of fisheries research results, the Research Center for Fisheries, Agency for Marine and Fisheries Research and Human Resources, held a Seminar on Fisheries Research Results 2019, in Jakarta, on 26-27 August 2019. This activity aimed as a forum of scientific communication and evaluation for fisheries researcher activities prior to 2019 and would screen the quality of Scientific Papers to be published in accredited journals both at national and international levels.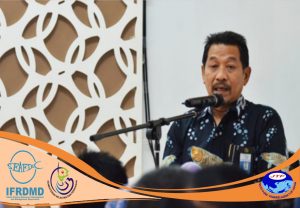 Being attended by more than 100 research with 68 papers, the Seminar was opened by the Director of Research Center for Fisheries, Mr. Waluyo Sejati Abu Tohir. He wished the participants actively understand and take the lesson learned and expected the Seminar very useful as evaluation to plan the next research activities to obtain more useful research results. He then looked forward to fruitful discussion and declared the Meeting was open.
Dr. Dina Muthmainnah, with co-author Ms. Ni Komang Suryati, took part in this Seminar and presented the paper entitled "The Aspect of Bio-ecology and Anguillid Eels Fishery in Cilacap Regency, Central Java". The article was evaluated by three evaluators who have the capacity as Indonesian Experts of Fishery Resources.