3RD INTERNATIONAL SYMPOSIUM ON THE TROPICAL EEL GENUS ANGUILLA (3RD ISTEGA 2019): ITS SCIENCE, CONSERVATION, AND MANAGEMENT FOR SUSTAINABLE USE
Ms. Melfa Marini (SEAFDEC/IFRDMD, BRPPUPP) attended 3rd ISTEGA 2019 based on invitation from President of Indonesia Society for Tropical Eels (ISTEs). It is conducted on August 1st-3rd 2019 in Manado, North Sulawesi, Indonesia. The objectives of this symposium are to recognize previous  and ongoing fundamental research on the tropical eels genus Anguilla; to discuss previous finding and progress about spawning ecology, population biology, reproductive physiology, and aquaculture technology in tropical eels genus Anguilla; to build up scientific networking among research institutions, universities, government, and aquaculturists who have worked and have interest in the tropical eels genus Anguilla; to support and facilitate scientific collaborative research on the tropical eels genus Anguilla.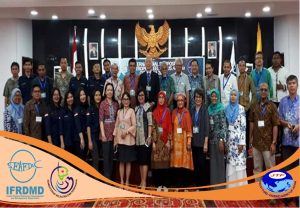 The fisrt day of symposium was presentation by keynote speakers: Prof. Dr. K. Tsukamoto (Aquatic Bioscience, Tokyo University, Japan) with the tittle "How can scientists contribute conservation and sustainable use of freshwater eels" and some papers such as "Biodiversity of marine eel leptocephali: a comparison between 2001 and 2010 cruise in the Tomini Bay and Celebes Sea" by Prof. Dr. S. Wouthuyzen (Research Center for Oceanography-LIPI, Indonesia), "Impact of El Nino 1997/1998 on successful recruitment and recovery of the tropical glass eels genus Anguilla in the Poigar River Estuary, North Sulawesi Island, Indonesia" by Dr. H. Y. Sugeha (Research Center for Oceanography-LIPI, Indonesia), "Tropical anguillid eel research in the Philippine" by Dr. M. Rowena R. R-EGUIA (SEAFDEC/AQD, the Philippines), "Tropical eels research, conservation status and threats in Malaysia" by Mrs. S. T. Raudah (Universiti Malaysia Terengganu, Malaysia), "Native Fishes of Tondano River, Nort Sulawesi, Indonesia" by Prof. Ir. Farnis B. Boneka, M.Sc. (Sam Ratulangi University, Indonesia), "Eel conservation in Indonesia: policy and program action" by Dr. Firdaus Agung (Deputy Director for Convention and Conservation Network Directorate General for Marine Spatial Management Ministry of Fisheries and Marine Affair, Indonesia), "Participation of WWF Indonesia on sustainable eel production" by Mr. Faridz Rizal Fachri (Directorate of Marine and Fisheries, WWF Indonesia), "Overview of Indonesian eel aquaculture industry" by Mr. J. Soetanto (Director Iroha Sidat Indonesia, Co.Ltd.).
The second day was presentation by keynote speakers: Prof. Dr. E. Feunteun (Professor of Marine Ecology and Fish Migration, France) with the tittle "Conservation ecology of anguillid eels: Concepts, theory and limits", and other paper presentations "Resource and conservation of tropical anguillid eels in southeast" by Prof. Dr. T. Arai (Universiti Brunei Darussalam, Brunei), "Introduction of the JAIF eel project conducted by SEAFDEC in Southeast Asia" by Mr. Isao Koya (SEAFDEC Secretariat Bangkok, Thailand), "Current status of Japanese eels, Anguilla japonica, stock" by Dr. K. Kaifu (Chuo University, Japan) "Fisheries status and management of Anguilla marmorata in Lasolo, Watershed, North Konawe District, Southeast Sulawesi, Indonesia" by Dr. U. K. Pangerang (Halu Oleo University, Kendari, Indonesia). Then, it was continued with ISTEs meeting. Based on the meeting, Ms. Melfa Marini as a researcher of Ministry Marine and Fisheries, IFRDMD was declared a member of ISTEs.  The last day, all the participants visited Tandano Watershed (DAS Tondaano): Flash back the systematic story of Anguilla ancestralis (Ege, 1939) and its habitat origin (Castle and Williamson, 1974).