SEMI-ANNUAL MEETING OF SEAFDEC/IFRDMD
SEAFDEC/IFRDMD, with the financial support from Japan Trust Fund (JTF), organized the SEMI-ANNUAL MEETING OF SEAFDEC/IFRDMD on 16 August 2018 in Palembang. The meeting has the aim to address the achievement in 2018 and the proposed activity in 2019. The meeting was attended by the Deputy Chief of IFRDMD, researchers, and administrative staff.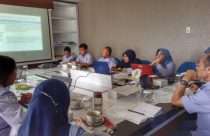 There were two project documents presented by the project leader, "Promotion of responsible utilization of inland fisheries in Southeast Asia" and "Enhancement of sustainability of catadromous eel resources in Southeast Asia". Since the year of 2019 is the last year for five-year activity (2015-2019), the goal should be achieved at the end of 2019.
During the meeting, there were many suggestions, comments, and questions, that can improve the project document better. The final reports and presentation files will be sent to SEAFDEC Secretariat and will be presented in Program Committee Meeting in the middle of November 2018. (#dina_mth)