Minister Counsellor (Agriculture) of Thailand visits SEAFDEC/IFRDMD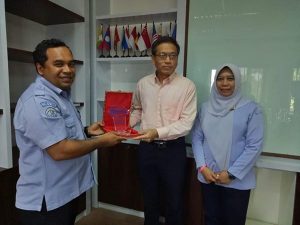 Dr. Smith Thummachue, the Minister Counsellor (Agriculture) of Thailand visited SEAFDEC/IFRDMD on 25 April 2019 to learn about the activity of this Department. Minister Counsellor was accompanied by the Officer of Agricultural Affairs (OAA), Royal Thai Embassy, Jakarta, Ms. Supranee Moomahamadsolae and Ms. Yuni Nurhastuty. During the visit, Dr. Thummachue expressed his interest in inland fishery activities in Southeast Asia. IFRDMD, represented by Dr. Dina Muthmainnah and Mr. Siswanta Kaban welcomed the special guests by sharing the overview in five-year working the research. Mr. Siswanta provided an overview on Fisheries Management Area (FMA) on Indonesia Inland Fisheries by using four parameters to assess the fish stock, i.e., stock (population biomass), potential production, Maximum Sustainable Yield (MSY) and total catch. While Dr. Dina presented a brief overview of the present status of inland fisheries in Southeast Asia. The information is compiled from IFRDMD research activities entitled "Promotion of responsible utilization of inland fisheries in Southeast Asia" conducted in Cambodia, Lao PDR, Malaysia, Myanmar, Philippines, Thailand, Viet Nam, as well as Indonesia since 2015 and will be ended at the end of 2019.
The visitors were also guided to see the IFRDMD facilities including the laboratories and fish collection workshops.