IFRDMD's RESEARCHER ATTENDS THE REGIONAL TECHNICAL MEETING ON FISHERIES RESOURCES ENHANCEMENT IN BANGKOK, THAILAND
On 24 – 26 April 2018, the IFRDMD researcher has attended the Regional Technical Meeting  (RTC) on Fisheries Resources Enhancement in Southeast Asia, the representative researcher from IFRDMD is Mr. Aroef Hukmanan Rais. This RTC was established by cooperation between SEAFDEC-Training Department, Aquaculture Department (AQD), and Marine Fisheries Resources Development and Management Department (MFRDMD). The meeting was conducted in Berkeley Hotel, Pratunam, Bangkok, Thailand. In this meeting also invited the representative participant from member countries, they are: Indonesia, Malaysia, Brunei, Cambodia, Vietnam, Lao PDR, Thailand, and Singapore. The objective of this meeting are to update the plan and implementation on fisheries resources enhancement national and regional program, share the information and lesson learned from activities on the fisheries resources enhancement of SEAFDEC Member Countries and relevant organization, and identify the needs of SEAFDEC Member Countries on the national and regional implementation of fisheries resources program.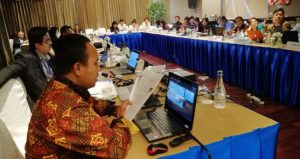 In this meeting each member countries have presented on two section about resources enhancement project in each countries, and the management measure of fisheries resources enhancement in their countries. In the next part the SEAFDEC researcher's have present the activities in related with resources enhancement. The result of this meeting has showed that all member countries have been tried to established and practices the protection area, installed the artificial reef, provide the artificial refugia and so on, but the challenge are the lack of information about method, technical and benefical from the enhancement environmental activities. Another challenge come from the degradation habitat and the increase of antopogenic activities than before (#arh_rais).