IFRDMD organizes the In-house Training on Drone and Its Utilization on Inland Fisheries
IFRDMD organized the In-house Training on Drone and Its Utilization on Inland Fisheries in Palembang on 18-20 November 2019. The resource persons came from IPB University, Mr. Beginer Subhan, and Mr. Prakas Santoso. The participants were the staff of IFRDMD, Research Institute for Inland Fisheries and Extension, and the students from Sriwijaya University.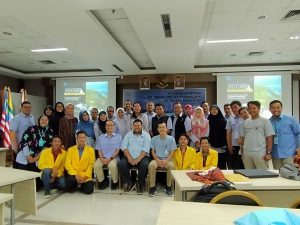 The training was opened by Deputy Chief of IFRDMD, Dr. Takuro Shibuno. He welcomed the resources person and participants and hoped everybody would be a drone specialist at the end of this training. He also conveyed that thirty years ago, in order to take aerial photographs of coral reefs to study fish behavioral ecology, only balloons, small airships, and radio-controlled airplanes were available. However, now it is easy to take a photo with a drone.
On the first day, the resource persons delivered the theory for drone and biodiversity, the basic techniques for using drones, and how to use drone for inland fisheries. On the second and last day, the participants were grouped into five. The groups learned and practiced how to take videos and pictures by using the drone in the field. Everyone tried to run the drone and took photos and videos. Then, the data of videos and photographs were analyzed. While analyzing the data, the discussion ran smoothly and excitingly. After finishing the data analysis, two participants presented the results.
The committee appreciated and rewarded two best participants, Mr. Rinaldo Agustan and Ms. Assyifa Mufida Aprilita. For closing the training, Deputy Chief of IFRDMD expressed his great pleasure that all participants and pay his deep respect to all the participants for the positive participation. He also thanked the resource persons for the excellent presentations and active discussion. He concluded that the purpose of the training had been completely accomplished. (MAL)