Having Good Cooperation Along Fifteen Years, SEAFDEC and FRA Holds Signing Ceremony and Special Seminar for Combating IUU Fishing
On Tuesday, January 22nd 2019, Dr. Arif Wibowo, Chief of SEAFDEC/IFRDMD and Dr. Takuro Shibuno, Deputy Chief of SEAFDEC/IFRDMD attended SEAFDEC Internal Meeting, MoU Signing Ceremony between the Fisheries Research and Education Agency (FRA) of Japan and The Southeast Asian Fisheries Development Center (SEAFDEC), and SEAFDEC Special Seminar on Combating Illegal, Unreported and Unregulated (IUU) Fishing.
The meeting was held at SEAFDEC Secretariat, Bangkok, Thailand, with the aim to discuss about the preparation of SEAFDEC/SEC and Department for the 51st council meeting that will be held in Bali, on March 18th-22nd 2019. SEAFDEC/IFRDMD is responsible for the 5.2.2. agenda conservation and management of tropical Anguillid eel resources and promotion of sustainable aquaculture. Documents on the agenda must contain the output of the project that should be known by the council, policy recommendation (regional) eel, progress focal point for FCG, result/summary of FAO-Small grant, synchronization results between JTF and JAIF projects and JAIF 2 plans for eel.
The Secretary-General of the Southeast Asian Fisheries Development Center (SEAFDEC), Dr. Kom Silapajarn and President of the Fisheries Research and Education Center (FRA), Masanori Miyahara said, "The aim of this signing ceremony is to formalize the cooperation between SEAFDEC and FRA that has been running well along this fifteen years on supporting the sustainable fisheries in the Southeast Asian region. This cooperation is important because when sustainable fisheries become the main concern of developed countries, such as the European Union, countries that do not have a systematic system in combating IUU fishing are prohibited from exporting fisheries to all European Union countries."
By having cooperation with Japan through FRA, SEAFDEC receives technical support related to effort combating IUU fishing and this method will be disseminated to Southeast Asian countries so that there is a systematic system related to this and the utilization of the optimal and sustainable.
Going forward, SEAFDEC/IFRDMD and FRA will focus on to strengthen research and management of research results, rationalize fisheries capacity, effective efforts to combat IUU and increase productivity and profitability through structural change.
The signing of the cooperation agreement between FRA and SEAFDEC is also a sign of the continuation of Japanese financial support through the Japanese Trust Fund at SEAFDEC regional fisheries organizations and at the same time strengthening the commitment of the Japanese government to help the development and utilization of sustainable fisheries in Southeast Asia. The Japanese government is also determined to make activities related to sustainable aquaculture as a priority. Collaboration and synergy between IUU activities and aquaculture related to food supply and the use of sustai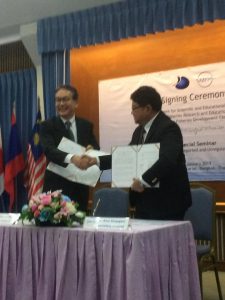 nable fisheries is needed. (cs)